Iraqi army advances on Mosul, as ISIL strikes back
Comments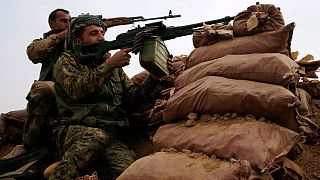 Day nine of the battle for Mosul: 78 villages have been liberated from the so-called Islamic State, according to the Iraqi army.
Kurdish Peshmerga troops and elite Iraqi forces have advanced to within a seven kilometres of Iraq's second city.
ISIL fights back
The coalitions forces, backed by American, British and French air cover are experiencing fierce resistance from ISIL, in the form of suicide attacks, roadside bombs and distraction attacks in towns elsewhere in Iraq.
A Kurdish journalist captured dramatic footage showing a jet destroying an Islamic State car bomb heading for Peshmerga forces in the village of Nawaran, north of Mosul.
IS fighters have waged counter offensives in Kirkuk and Rutba. The desert town of Rutba lies 450lm southwest of Mosul. On Sunday they launched an attack, and expanded the area under their control.
As the battle intensifies, the UN is warning that ISIL could use rudimentary chemical weapons, and expects a mass exodus of civilians from Mosul to begin within days.
UN human rights spokesperson Rupert Colville said that ISIL had reportedly massacred scores of people around Mosul in the past week.
In a refugee camp in Erbil, Sunni tribesmen are preparing to go to the frontline and take on the militants who seized their lands two years ago. One of those displaced was Ali Mohammed who said, "I heard on TV that they are gathering people to fight against Daesh (ISIL), so I decided to sign up to take my revenge from Daesh (ISIL), who killed many members of my family."