Iraqi forces drive ISIL out of Christian region near Mosul
Comments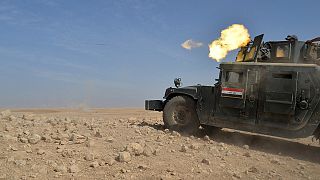 Government forces in Iraq have continued their large-scale push towards Mosul storming a Christian region seized by ISIL in 2014.
Units entered the town of Qaraqosh lying about 30 kilometres from the northern city, commanders said.
Further south, US soldiers at Iraq's Qayyara airfield, the main hub supporting the offensive, were forced to wear
masks against toxic plumes from a nearby sulphur plant set ablaze in the fighting.
The latest advances took place as US Defence chief Ash Carter arrived in Baghdad for talks to discuss the military campaign.
While the Iraqi army is trying to advance from the south and east on ISIL positions, Kurdish Peshmerga fighters attacked settlements east of Mosul on Saturday.
It follows the capture of the town of Bartella by Iraqi forces earlier this week.
In the meantime, while ISIL's counter attack in Kirkuk south-east of Mosul appears to be all but over, there have been reports of mass executions by the group.
Iraqi officials have accused ISIL fighters of killing nearly 300 men and boys near Mosul as coalition forces close in on the city.