Torture and executions - Amnesty International warns of revenge attacks in Iraq
Comments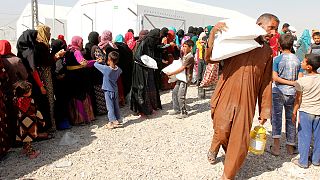 Shia paramilitary groups and Iraqi government forces have carried out revenge attacks on Sunni Arabs suspected of supporting ISIL, that's according to Amnesty International.
In its new report the agency says the attacks amount to war crimes.
The publication called 'Punished for Daesh's crimes' :Displaced Iraqis abused by militias and government forces, exposes a backlash against civilians fleeing ISIL-held territory. It's based on over 470 witness statements from survivors and aide workers.
Iraq: Kurdish authorities must end detention of Yezidi woman who survived IS captivity | Amnesty International USAhttps://t.co/riFddcVfOd

— Muhanad Seloom (@M_Seloom) September 16, 2016
The rights group has accused paramilitary groups and government forces on one occasion of rounding up thousands of older boys and men who were then tortured, forcibly disappeared or extrajudicially executed.
Diana Eltahawy, Amnesty International Iraq researcher said:
"Amnesty International is asking the international community, particularly states that provide support to the Iraqi authorities in their battle against ISIL not to turn blind eye on the systematic violations and war crimes that we have seen in the past two years."
The human rights agency says its raising the alarm now as the military operation to recapture the ISIL-held city of Mosul gets underway.