'Dozens dead' in renewed Aleppo airstrikes
Comments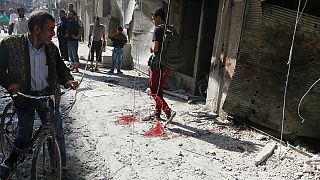 In what has been described as the heaviest bombardment in days by Russian planes, at least 50 civilians were killed in Tuesday's air strikes on rebel-held parts of Aleppo and nearby villages, according to residents and rescue workers.
The UK-based Syrian Observatory for Human Rights monitoring group put the death toll at 25 at least, with scores of wounded.
In the neighbourhood of Bustan al-Qasr, locals said a medical centre and a children's playground were hit.
Aid organisation Medecins Sans Frontieres said there are now just 11 working ambulances left in the besieged city.
#Syria:The siege prevents us from bringing in replacement parts for ambulances for hospitals of east #Aleppohttps://t.co/bK4DwNMpLupic.twitter.com/VbN71gXXlt

— MSF International (@MSF) 12 octobre 2016
The Syrian regime, backed by Russian air strikes, is seeking the complete recapture of Aleppo which has been divided between government and opposition control for years.
In Hama province, state media reported Syrian forces have won a series of victories against rebels as the two sides attack and counter-attack in towns and villages turned into battlegrounds.
Since Russia intervened in the Syrian conflict a year ago, President Assad's soldiers have gained the upper hand on numerous fronts.