Johnson slams Russian action in Syria as bombs rain down on Aleppo
Comments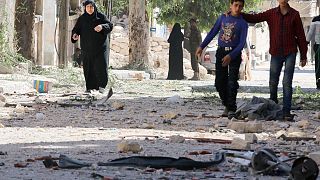 The House of Commons has held a three-hour debate on the deteriorating situation in Syria and in his first speech
as foreign secretary Boris Johnson accused Russia of "deliberate attacks on humanitarian convoys."
If President Putin's strategy is to restore the greatness and the glory of Russia, then I believe he risks seeing his ambition turned to ashes

British Foreign Secretary
#pt: BorisJohnson</a><br><br>"There is simply no commensurate horror expressed by the so-called Stop the War coalitions regarding events in <a href="https://twitter.com/hashtag/Syria?src=hash">#Syria</a>." <a href="https://t.co/c90AdEHCQB">pic.twitter.com/c90AdEHCQB</a></p>&mdash; Charles Lister (Charles_Lister) October 11, 2016
A UN convoy was attacked from the air last month, an action widely attributed to Russia, which the Kremlin denies.
Johnson was openly critical of Moscow:"If Russia continues in its current path, then I believe that great country is in danger of becoming a pariah nation. And if President Putin's strategy is to restore the greatness and the glory of Russia, then I believe he risks seeing his ambition turned to ashes in the face of international contempt for what is happening in Syria."
Very unusual call from the Foreign Secretary to hold demonstrations in front of the Russian embassy. New form of British diplomacy? pic.twitter.com/rzxUkGyyrQ

— Russian Embassy, UK (@RussianEmbassy) October 11, 2016
The fate of Aleppo, already on the brink of being blasted out of existence, is concentrating minds with a no-fly zone seemingly out of the question to stop Russian and Syrian army bombings.
Last week Russia vetoed a Franco-Spanish UN Security Council resolution calling for an end to the bombing.
Russian deputy defence minister Anatoly Antonov on a visit to China said:"We are strongly convinced that there is no military solution to the problem in Syria. It is necessary to leave aside all political ambitions and sit down at the negotiating table immediately."
As diplomacy goes nowhere the people of eastern Aleppo live and die under the bombs.