Russian jets 'resume heavy Aleppo bombing'
Comments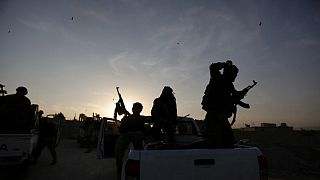 After several days of relative calm in Aleppo, Russian jets resumed heavy bombardment of rebel-held areas on Tuesday, according to a rebel official and a British-based monitoring group.
Initial reports spoke of at least 12 civilians being killed.
Moscow and Damascus reduced air raids in the northern city last week.
The Syrian army said it was partly to allow civilians to leave opposition-held eastern neighbourhoods.
President Assad's government said rebels holed up in Aleppo can leave with their families if they lay down their arms. Insurgents have denounced that offer as a deception.
Russia renews heavy bombing of Syria's Aleppo, as at least 5 children die in rebel fire on a school in the south https://t.co/2RftFLpbTm

— AFP news agency (@AFP) 11 octobre 2016
The UK-based Syrian Observatory for Human Rights also said on Tuesday that a school in a government-controlled part of the southern city of Deraa had been shelled by rebels, with several people killed including children.
The Assad regime seeks the complete recapture of Aleppo, Syria's biggest city before the civil war, which has been divided between government and opposition control for years.
The intervention of his ally, Russia, has helped the Syrian government side gain the upper hand against rebels on many frontlines in the conflict, including Aleppo, where the opposition-held sector has been completely encircled for weeks.
As the horror continues, so does the blame game.
Speaking at the Xiagnshan Security Forum in Beijing, Russia's Deputy Defence Minister Anatoly Antonov pointed the finger at the United States.
"The sooner Washington understands that without Russia it is impossible to defeat international terrorism, the sooner the international community will win," he said.
"We are ready for this work with American colleagues and other Western countries."
US-Russia contacts on Syria collapsed after the last ceasefire crumbled.
Initial reports said at least four children were among 12 civilians killed in the latest air strikes in Aleppo. For those left behind, the nightmare continues.
The humanitarian organisation Medecins Sans Frontieres says there are now just 35 doctors left in rebel-held eastern Aleppo.
The group is calling "for an end to the indiscriminate aerial bombing campaign of east Aleppo, for the evacuation of the wounded and sick, for humanitarian aid to be allowed in, and for the right to be upheld of civilian populations to flee crisis areas in a conflict."
#Syria First the surrounding areas were hit, then roads into #Aleppo, then hospitals, water supplies, neighborhoods https://t.co/wC6ZfgN4qXpic.twitter.com/FTkvAYtMA5

— MSF International (@MSF) 11 octobre 2016
Two little girls, age 5 + 7, fled the horrors of Aleppo. They miss their dolls and their home.#DayOfTheGirl#Syriahttps://t.co/m3kzyoIJT6pic.twitter.com/ZTIYw6mQVJ

— UN Refugee Agency (@Refugees) 11 octobre 2016