'Matthew is a very big and very bad beast' as Florida faces significant flooding
Comments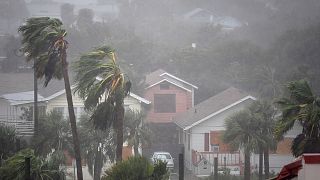 Hurricane Matthew is battering the Florida coastline with relentless wind and rain.
If you have evacuated don't return until told to do so

Florida governor
Latest on Hurricane Matthew in Florida: https://t.co/7kqavnz936
-At least 1 dead
-600,000 without power
-Category 3 hurricane, 120 mph winds pic.twitter.com/09nlAbRPhG

—

ABC

News (@ABC) 7 October 2016
Authorities have advised two million people to evacuate, though many have remained in their homes.
The fire department says one person has been killed in the storm.
Thoughts w all those affected by #HurricaneMatthew. To those in its path tonight #Florida & #EastCoast, stay safe! pic.twitter.com/1FFMW1T6vY

— Scott Kelly (@StationCDRKelly) 7 October 2016
The World Meteorological Organization suggests the storm will not move inland, but hug the coastline for several days increasing the risk of serious flooding due to huge waves and storm surges.
State governor Rick Scott offered this advice to those hit by Matthew:"We have a power outage and a lot people will use generators. Do not use them inside the house. Only use a generator outside the home. And if you have evacuated don't return until told to do so."
As many as 600,000 homes are without electricity and the US National Guard is supporting civil authorities in four states.