Russia to send more warplanes to Syria - reports
Comments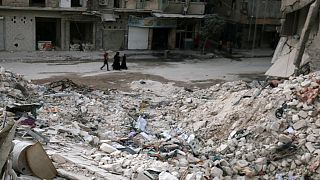 As reports from Russia suggest it is sending more warplanes to Syria, the offensive by President Assad's military on the ground is stepping up a gear.
Fighting has intensified, a week into a new Russian-backed Syrian government push to capture rebel-held eastern Aleppo. Pro-regime forces say they are taking territory.
Russia's Izvestia newspaper has reported the arrival of warplanes at a base in Syria, with more on the way.
It comes as a UK-based monitoring group claimed Russian airstrikes over the past year had killed more than 9,000 people.
Moscow insists that its air campaign targets 'terrorists' and is in line with international law.
'More than 9,000 dead' in year of Russian raids in Syria https://t.co/p3hG9HhV5k

— Al Jazeera News (@AJENews) 30 septembre 2016
Russia joined the war a year ago, tipping the balance of power in favour of Assad, who is also supported by Iranian ground forces and Shi'ite militia from Lebanon and Iraq.
As US Secretary of State John Kerry and Russian Foreign Minister Sergei Lavrov spoke by telephone for a third straight day, the US made clear on Friday that it would not, at least for now, carry through on the threat it made on Wednesday to halt the diplomacy if Russia did not take immediate steps to halt the violence.
"This is on life support, but it's not flat-lined yet," State Department spokesman Mark Toner told reporters.
"We have seen enough that we don't want to definitively close the door yet."
Far from the negotiating table, activists claimed cluster munitions had been used in new airstrikes on a residential neighbourhood of Aleppo. These are containers that explode in the air to distribute smaller bombs over a large area.
The children of #Aleppo are trapped in a living nightmare. 5-year-old Shahed & her friend set up a tent on the roadside. #childrenofsyriapic.twitter.com/6AYvHtsbGC

— UNICEF (@UNICEF) 30 septembre 2016
In July Human Rights Watch said the Russian-backed Syrian government's air campaign against rebels was widely using cluster munitions, despite them being banned by more than 100 countries because of their indiscriminate nature.