Baby with three genetic parents is born
Comments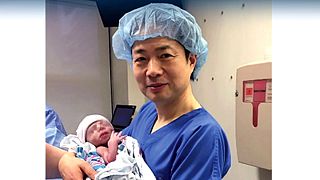 Fertility doctors using a brand new technique to eliminate inherited disease have helped a woman deliver a baby with three genetic parents.
The child who is now five months old, has the usual DNA from his mum and dad, plus a small amount of genetic code from an unknown female donor. The method was carried out in Mexico by US Dr. John Zhang and his team as the procedure is illegal in America.
It means the child is now free of a fatal disorder known as Leigh Syndrome which carried in his mother's genes lead to the deaths of two previous children.
Experts say the move heralds a new era in medicine and could help other families with rare genetic conditions how ever critics say its playing god and insist such controversial techniques have rigorous checks.
The UK has already passed laws to allow the creation of babies from three people. But the science does raise ethical questions, including how any child from the technique might feel about having DNA from three people.
Do you think doctors should be allowed to replace defective genetic material in human embryos? https://t.co/JeU759OXwG

— euronews (@euronews) September 28, 2016