China's second space lab blasts off from Gobi desert
Comments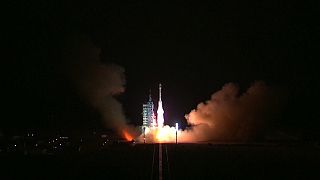 It's lift off for China's second prototype space station.
The uncrewed lab blast off from the Gobi desert around 10pm local time.
Next month two crew will dock the station to carry out research.
Tiangong 2, meaning Heavenly Palace, is a key part of the country's plan to have a permanently staffed space station by the early 2020s.
Beijing is hoping to establish itself as a space power, and insists its programme is for peaceful purposes. Something which the US has called into doubt. They said some elements could be used to block access to satellites during times of conflict.
LIFTOFF!!! #LongMarch2F#Tiangong2pic.twitter.com/ikwke1gK5J

— DanSpace77 (@DanSpace77) September 15, 2016