Merkel defends migrant policy despite regional election defeat
Comments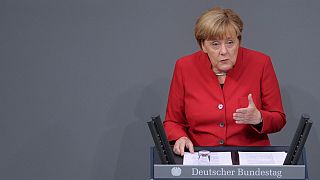 Angela Merkel has staunchly defended her policy towards migrants in a speech to the Bundestag.
The German Chancellor said the government had taken steps to help local authorities pay for refugees, passed an integration law, boosted security and accelerated repatriations of migrants denied asylum.
"The situation today is much, much better for everyone than it was a year ago but there is still a lot that needs to be done. One big problem is repatriation and enforcing the departure of those people who are not allowed to stay here. And citizens rightly expect from us that we help those who need help, but that we tell those who have no right of residence that they have to leave Germany," Merkel said.
The Chancellor acknowledged the challenge posed by the hard-right Alternative für Deutschland (Alternative for Germany) party which pushed her Christian Democrats (CDU) into third place in a regional vote last weekend.
The AfD came second in the vote in the eastern state of Mecklenburg-West Pomerania, where Merkel has her constituency, and looks well set to win seats in the national parliament next year. It is also expected to perform well in an election in Berlin on September 18.
Its success comes amid fears about the influx of around a million migrants to Germany last year. According to an INSA poll this week the AfD has 15 percent support nationally, compared to 30.5 percent for the ruling conservative bloc which shares power with the Social Democrats.
Merkel – who is expected to seek a fourth term in the federal election – warned against slogans and simple solutions, saying politicians must take people's worries seriously and explain the facts.
"I am sure that if we stick to the truth, we will win back what we need – people's trust," she said.
The Chancellor also defended the EU's migrant deal with Turkey and her relationship with Ankara. Critics have accused Merkel of trying to curry favour with President Erdogan despite his controversial human rights record.
"The deal with Turkey is a model for further similar agreements," Merkel said, naming Egypt, Libya and Tunisia.
Remarkably sound analysis of #Merkel and rise of radical right in Telegraph</a> of all places!<br> <a href="https://t.co/VDPBCQKBsD">https://t.co/VDPBCQKBsD</a> via <a href="https://twitter.com/TelegraphNews">telegraphnews

— Cas Mudde (@CasMudde) September 6, 2016