The figures behind the rise of far-right party Alternative for Germany
Comments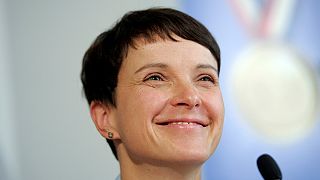 The burgeoning Alternative for Germany (AfD) scored one of its biggest triumphs at the ballot box in early September, notching up more than a fifth of votes and pushing Angela Merkel's conservatives into third place.
The election, in Merkel's home state of Mecklenburg-Vorpommern, saw Alternative for Germany get a 21.9 percent share of the vote.
Merkel's conservatives got 19 percent, a drop of four percent compared with the state's last election in 2011.
Back then, AfD didn't exist. It was founded in 2013 as a Eurosceptic party, but has since developed to oppose immigration.
It now has a presence in nine of Germany's 16 state assemblies and will be looking to add to that number on September 18, in regional elections in Berlin.
This graphic illustrates how, in the states AfD has competed in since their formation, it has taken votes away from two of Germany's main parties, Merkel's Christian Democrats and the Social Democrats.
Dark red indicates a high vote share, whereas salmon pink indicates a lower value.
While all the headlines have been about Merkel's party suffering as a result of AfD's rise – blamed on her handling of the migrant crisis – it is actually the centre-left Social Democrats (SPD) that has lost out the most.
For example, in the three states where AfD has performed best (Mecklenburg-Vorpommern, Sachsen-Anhalt and Baden-Württemberg), the Social Democrats has lost a combined 27 percent points of vote share, when you compare the two most recent elections. CDU is down 18.7 percent.
However in Mecklenburg-Vorpommern, AfD took votes from across the political spectrum.
The anti-immigration party took a 21.9 percent share of the vote, while the majority of the main parties saw their vote share fall, compared with the previous election in 2011.
SPD were down 5.4 percent; CDU 4 percent; the Left Party 5.7 percent and the Greens 3.8 percent.
How AfD has performed in state elections 2013-2016
How
CDU

has performed before and after the birth of Alternative for Germany
How
SPD

has performed before and after the birth of Alternative for Germany
More on this subject
Listen to an interview with An interview with Dr Mark Allinson, a senior lecturer at the University of Bristol and an expert on German politics, on the subject of Alternative for Germany's recent election success.