Julian Assange criticises timing of Swedish news conference
Comments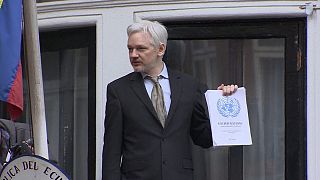 Wikileaks founder Julian Assange has criticised the timing of a news conference held by the Swedish prosecutor.
Marianne Ny said there had been no news since August when Ecuador said Sweden could interview Assange at its London embassy where he has been confined for more than four years.
Assange sought refuge at the Ecuadorian Embassy to avoid extradition to Sweden where he's wanted over rape allegations,claims he denies.
Ny said she is not sure if Quito will agree to the chief prosecutor, Ingrid Isgren, being present during the interrogation, along with a police investigator.
"We're waiting now to be told how, when the interview is likely to take place and also if we are going to be allowed to be present while it's being held," Ny said.
Assange said Wednesday's news conference was held just 48 hours before Sweden's Court of Appeal decides whether he should be freed following the UN's finding that his detention without charge is unlawful.
"The prosecutor's state-funded press conference today appears to be a highly inappropriate attempt to place pressure on the courts," Assange said.
"The press conference also comes hours before an in depth expose on the case from Sweden's top investigative team is broadcast on Sweden's national broadcaster. By holding the press conference six hours before the broadcast journalists will not know what questions to ask," added Assange.
WATCHLIVE: RT's NastiaChurkina</a> interview&#39;s Assange adviser Sarah Harrison <a href="https://t.co/SydvmCip3s">https://t.co/SydvmCip3s</a> <a href="https://t.co/RZUlJoVrit">pic.twitter.com/RZUlJoVrit</a></p>&mdash; RT (RT_com) September 7, 2016
Read more:Julian Assange warns of 'consequences if detention continues'