French police detain two after gas canisters found in Paris car
Comments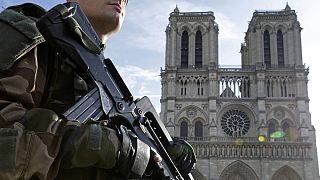 Two people were arrested in southern France on Tuesday (September 7) in southern France after a car parked near Notre Dame Cathedral was found with several gas canisters inside over the weekend.
The car, whose owner is on an intelligence services watchlist of people suspected of religious radicalisation, was discovered near Notre-Dame cathedral in Paris on Saturday night with seven gas cylinders inside, police and judicial officials said on Wednesday, Reuters news agency reported.
The car owner was taken into custody but later released, one judicial official said.
#BREAKING: Picture of the car with 7 gas canisters found near Notre Dame Cathedral #Paris; 2 people arrested pic.twitter.com/hucTvwANpa

— Amichai Stein (@AmichaiStein1) September 7, 2016
The Peugeot 607, which had no registration plates, contained seven gas cylinders, one of them empty on the front passenger seat, two police officials said.
It was found with its hazard lights flashing, as if to attract attention, they said.
France's interior minister Bernard Cazeneuve said he was waiting for a report from investigators on what the possible motives were for the incident.
Cazeneuve said there have been 260 arrests linked to extremist networks since the beginning of the year "and a significant number of these people were preparing attacks," reported Associated Press news agency.
There was no detonating device present in the car, found on a Seine riverside stretch called the Quai de Montebello, metres from the Notre-Dame cathedral, one of Paris's many popular tourist attractions.