Kabul hit by three bomb attacks
Comments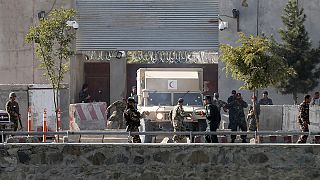 At least three bomb attacks marked a deadly start to the week in Afghanistan's capital, Kabul.
Twin suicide explosions tore through a crowd in the afternoon close to the defence ministry, killing at least 24 people including a number of senior officials. A second blast went off as security forces and civilians rushed to help the victims of the first bomb. Another 91 people were wounded.
The Taliban immediately claimed responsibility for the attack, the deadliest since July when Islamic State claimed it killed 80 in a suicide bombing.
Late on Monday a powerful blast was heard in the centre of the city, but there are no reports of casualties as yet. Sporadic gunfire was heard coming from Kabul's embassy quarter, which also contains government buildings.