Putin expresses condolences after death of Uzbek President Karimov
Comments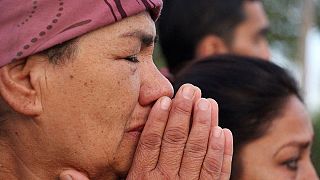 Russian President Vladimir Putin has expressed his condolences following the death of Uzbekistan President Islam Karimov.
Karimov died after being hospitalised several days ago.
"His [Karimov's] passing away means a heavy loss for the entire people of Uzbekistan, for the Commonwealth of Independent States and for the partner nations of the Shanghai Cooperation Organization," Putin said in a telegram of condolences.
"Islam Abduganiyevich [Karimov] was a highly authoritative statesman and a true leader of his country. His name is linked to the milestone events in the history of contemporary Uzbekistani state."
The Russian delegation at Karimov's funeral will be headed by Prime Minister Dmitry Medvedev on Putin's orders, reported the RIA Novosti news agency.
Karimov remained the Uzbek president for 26 years. He died after being hospitalised several days ago.
1991- Islam #Karimov w/ Sobchak, ex St. Petersburg mayor. Do u recognize the shy lookin guy behind them? #Uzbekistanpic.twitter.com/ikupyptC1r

— Abdujalil A (@abdujalil) September 2, 2016
There will be no change of the regime in Uzbekistan after the death of their president, and whoever is next to lead the country will follow the same path, according to an Uzbek opposition blogger.
Nadejda Atayeva, who is the head of the Association for Human Rights in Central Asia, said the most likely successors to President Islam Karimov are two high ranking officials, Shavkat Merzyaev and Rustam Azimov.
The blogger also spoke about the absence of any real opposition in Uzbekistan, as well as lack of freedoms and violation of human rights.
Competition among Uzbek's clans will determine who the country's next leader will be. https://t.co/IsvvUAatidpic.twitter.com/x5gQwYwUjA

— Stratfor (@Stratfor) August 30, 2016
Uzbeks experience "mass anxiety, mourning and worry" after president's death https://t.co/pb7dOTbJXc with sarahkendzior</a></p>&mdash; Katy Pearce (katypearce) September 2, 2016
My take on Karimov's record. Full interview here: https://t.co/SzSmQUjiyC#Uzbekistanpic.twitter.com/KiO0GVTeVu

— Sarah Kendzior (@sarahkendzior) September 2, 2016
---