Former LA Dodgers owner to buy Olympique de Marseille
Comments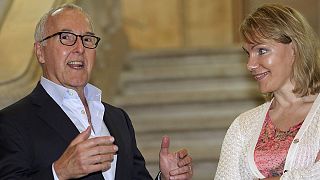 French first division side Marseille is set to be taken over by a new owner.
Former LA Dogers owner Frank McCourt announced he had entered exclusive negotiations to buy the club from billionaire businesswomen Margarita Louis-Drefus, who took control of Marseille after the death of her husband Robert in 2009.
McCourt told French sports newspaper L'Equipe he had bought the club as a long-term personal project and not to re-sell it like an investment fund.
He also vowed to restore Marseille to their former glories.
The deal worth a reported 40 million euros and is expected to be completed by the end of the year.
Small change for a man who sold the LA Dodgers for two billion dollars in 2012.
Marseille have French football's biggest fan base, but the last of their nine league titles came back in 2010.
They have struggled in recent seasons and last term finished 13th in Ligue One.