Mnongat and Lobacevske win Mexico City marathon
Comments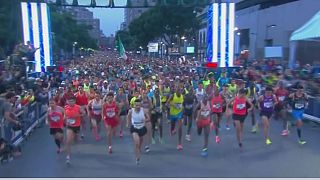 The 34th Mexico City marathon took place on Sunday and some 35,000 runners braved the blistering temperatures.
Kenya's Emanuel Mnongat finished first among the men.
He crossed the line level with countryman Isaac Kmaiyo in a race that was eventually decided by a photo finish.
They stopped the clock at 2 hours, 19 minutes and 32 seconds.
Rodgers Ondati made it a Kenyan clean sweep of the podium coming home third.
Meanwhile Lithuania's Diana Lobacevske won the women's race.
The 36-year-old who finished 17th at the Rio Games completed the course in 2 hours, 40 minutes and 32 seconds.
Ethiopia's Shewarge Amare – a three time winner and reigning champion, crossed over in second place while Peru's Karina Villazana claimed third almost four minutes off the winner's pace.