End of the road for Brazil's suspended president Rousseff?
Comments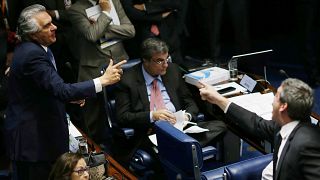 As witnesses take to the stand in the impeachment trial against Brazil's suspended president Dilma Rousseff, political scientist David Fleischer says this is the end of the road for the embattled leader.
"I think she has zero chance of coming back. There were already three votes in the Senate. And there were more than two thirds against her. It is expected that she will get at least 60 votes against her. For the impeachment, two thirds are required : 54 votes. There are no indication whatsoever that some senators will change their vote."
The trial could also spell the end of her Workers' Party rule, which began thirteen years earlier with the election of Lula da Silva.
"The Workers' Party was not destroyed but quite damaged and many expect that it will suffer a big defeat in municipal elections in October. (…) It will suffer a lot in the years to come. We don't know what is going to happen to this party. It hasn't got any other candidate for the presidential elections in 2018 other than Lula," explained Flesicher.
Euronews reporter Pierre Le Duff sums up:
"The final step of the impeachment process which was initiated six months ago should last about five days. Unless something unexpected happens, the president's fate is already sealed."