Several students are among the dead after an attack on a Kabul university
Comments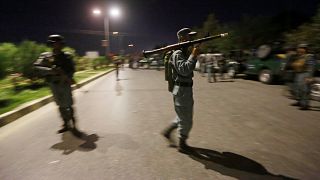 An attack on the American University in the Afghan capital, Kabul has ended with 13 people dead including seven students.
Two gunmen were also eventually shot and killed by Afghan security forces.
The American University of Afghanistan in Darul Aman Road in #kabul city came under attack.
May Allah protect them. pic.twitter.com/TfMq0E1Zhr

— Sana Gulzar (@sanagulzar07) August 24, 2016
The assault began with a large explosion and gunfire as suspected militants forced their way into the complex where foreign staff and pupils were working.
Terrified students barricaded themselves in classrooms or jumped out of windows to escape.
Ziaullah, a student at the university who was injured and taken to hospital, said: "We were studying at the second floor, suddenly we heard a very harsh sound, there some [gun]fire. We didn't feel good, we didn't feel safe, so we jumped from the second floor and escaped from the gateway."
Afghan forces surrounded the walled compound and worked their way inside searching for the assailants. The assault ended after a 10-hour standoff.
The victims also included three police and three guards with dozens injured during the assault.
No group has claimed responsibilty.
The American University of Afghanistan has about 1,700 students and advertises itself as the country's only not-for-profit, 'non-partisan', co-educational university. It opened in 2006 and caters to full-time and part-time students.