Video: Rheeder wins Red Bull Joyride event
Comments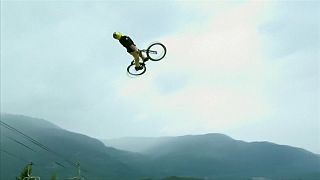 It's easy to see why Canada's Whistler Mountain Bike Park is more commonly known as the Boneyard.
It doesn't care who you are, it will take you down if you haven't brought your A-game, as many found out at this year's Red Bull Joyride.
The worlds best slopestyle riders gathered for the biggest slopestyle event at Whistler – and there was a crowd to match the occasion for this gravity-fuelled mountain biking extravaganza.
First place went to home hope Brett Rheeder following a nearly flawless run from top to bottom in the final.
Belgium's Thomas Genon while Max Fredriksson of Sweden placed third.