Portugal fires: Wildfires rage on mainland as Madeira counts cost
Comments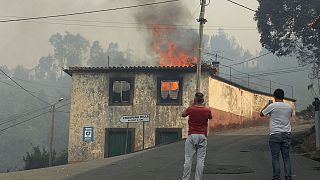 Flames on the tourist island of Madeira have made headlines worldwide but Portugal's mainland is also being ravaged by a wave of more than 100 wildfires.
Some 4,000 firefighters are battling to bring them under control in the centre, north and northwest.
At least one person has been killed on the mainland and three more on Madeira where tourists and locals alike were forced to flee before the situation there was brought under control.
After cutting short his own holidays to fly to the island, Portuguese Prime Minister Antonio Costa was keen to offer reassurance.
"Now we have to move to the next phase – to rebuild what has been destroyed, return to normality, and rebuild confidence in Madeira as a major and safe tourist destination," he told reporters.
Authorities on Madeira said tourists were either back in their hotels or transferred to others but some 260 people remained in makeshift shelters on Thursday.
Wildfires on Madeira force hundreds to flee their homes https://t.co/p2pge2HHnohttps://t.co/wz8zOhlE0l

— euronews (@euronews) 10 août 2016
More than 200 buildings in Madeira's regional capital and popular resort Funchal have been destroyed or damaged.
Police say a number of Portugal's fires were lit by arsonists and that several suspects have been arrested.
Summer forest fires are common in Portugal, which in 2003 suffered its deadliest blazes, killing 19 people and destroying around 10 percent of the country's forests on over 2,100 sq km.