Rio Olympics: Mudranov gives Russia a perfect start as American teenager Thrasher shoots to first gold
Comments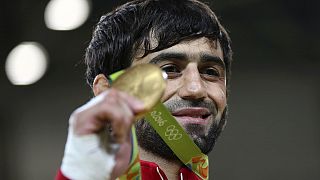 Beslan Mudranov gave Russia something to cheer about following a scandal-plagued build up to the 2016 Rio Games.
Mudranov was among the day one gold medal winners when he celebrated victory in the men's judo -60 kg category.
He beat Kazakhstan's Yeldos Smetov courtesy of a golden score waza-ari.
It was also the perfect tonic for a Russian team looking to put their doping scandal temporarily to one side and let the sporting triumphs take centre stage.
He said: "I am now starting to think about this and I am at the same time realising that it is the first medal. I don't have strong feelings, but I very much hope that this will now help my entire Russian team."
Also among the standout gold medals on the opening day one of competition was American teenager Virginia Thrasher's title in the the 10-meter air rifle.
She said: "I was actually in contention for a medal, and that was a great feeling, obviously. But I had to go push that thought away, and come back to focusing on shooting. And once I did that, and the final was over, I'm just very proud to be able to start off the Rio 2016 Olympic Games in such a positive manner for my country."
It was 19-year-old upset a star-studded field to win her first major international title.
Former world champion Du Li and fellow Chinese and defending Olympic champion Yi Siling took silver and bronze.
Team USA has led the medal count at the summer Olympics for the past 20 years — through five consecutive Games.
And if some reports from the US turn out to be accurate Thrasher's gold is one of an expected 45 for the Olympic powerhouse Americans.