Austria's Kern: only lesson to be learned from Donald Trump is 'never dye your hair'
Comments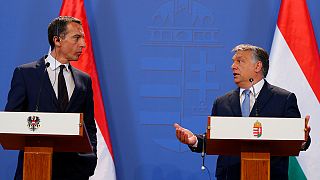 The controversial question of Donald Trump came up as the Hungarian and Austrian leaders met in Budapest to try to ease tensions over migration.
Hungary's right wing prime minister Viktor Orban – who recently said he backed the US Republican's hardline stance on the issue – again described immigration a "poison", saying his country didn't need a "single migrant".
The Austrian Chancellor Christian Kern begged to differ.
"There might be one more thing that we don't agree with Mr. Prime Minister, and this issue is Donald Trump. I am sure that there is only one thing that we can learn from him: that a man should never dye his hair," Kern said at a joint news conference.
As the joke was translated into Hungarian, it brought a glimmer of amusement from his host in the form of a wry smile.
But Orban became serious as once again he lambasted the European Union's plan to share migrants across member states under a compulsory quota system, saying Europe should learn from Donald Trump.
"The democrats' foreign policy is bad for Europe and fatal for Hungary. On the other side the policy announced by Trump and the Republicans on migration and foreign policy – is good for Europe, and for Hungary it means life," he said.
Accepting the US Republican presidential nomination, Trump proposed a total suspension of migration from countries "compromised by terrorism".
Hungary has filed a legal challenge against the EU's quota plan and will hold a referendum on October 2 on whether to take part in the scheme.
"There is no need for a common European migration policy: whoever needs migrants can take them, but don't force them on us, we don't need them," Orban said.
Hungary has recently introduced further security measures along its border with Serbia.
In early July Austria promised to send 20 police officers to Hungary-Serbia frontier, marking a change of tack by Vienna which has previously criticised Hungary's treatment of migrants.
Chancellor Kern acknowledged that migration to Austria and Germany had declined since Budapest introduced its tough measures. "If we are beneficiaries from this process, then we have to assist it," he said.
BREAKING: Viktor Orban announced that all Hungarian emigrants abroad are "poison": https://t.co/GjXEsBCAVk including my wife and kids then!

— Thomas Jezequel (@Tomjez) July 27, 2016