Austria and Hungary agree to work together in wake of France church attack
Comments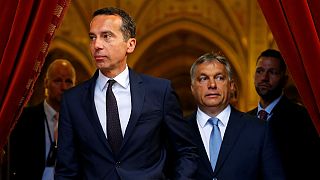 The deadly, ISIL-claimed attack on a French church appears to have been the catalyst for a strengthening of relations between Hungary and Austria.
Despite not always seeing eye-to-eye on topics such as migration, leaders in the two neighbouring countries have expressed compassion for the victims of Tuesday's attack (July 26, 2016) and have agreed to try to find common solutions to their problems.
Hungary's Prime Minister Viktor Orban has, historically, linked terrorism to migration. Speaking on Tuesday, he labelled immigration "poison" and rejected European policies wanting to – in his words – "force" Hungary to welcome foreigners.
"We can only allow into Hungary the number of people that we can examine as well. As, according to the Hungarian perception, every single migrant, every single migrant means a public safety and terror risk," said Orban.
Austria's Chancellor Christian Kern says the situation is more complicated than that.
"If we can stabilise these numbers, moreover to reduce them, then we can say that our common action was successful," said Kern.
Orban has since admitted he understands Austria's need to introduce strict border controls along its eastern frontier. He has suggested the two nations work together to protect Hungary's border with Serbia. Kern agreed to send 20 police officers there to help their Hungarian colleagues.