Despres wins Silk Way Rally for first career four-wheel triumph
Comments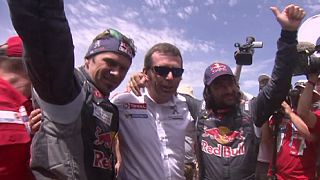 Frenchman Cyril Despres celebrated his first career rally raid victory on four wheels on Saturday after winning the Silk Way Rally.
Despite crossing the finish line of the 14th stage in 6th position the 42 year old Peugeot driver, who has won the Dakar rally five times on a motorcycle, had previously done more than enough to claim the title.
There was even time along the route for his stable mates Sebastien Loeb and Stephane Petershansel to congratulate their compatriot on a job well done.
Despres said: "Really happy, really happy for the Lion (nickname of Peugeot), for Peugeot and my co-driver. I think it was a long trip from Moscow. And we manage to not do any big mistake. I think that's why we are the winners and we are happy, very happy".
Saudi Arabia's Yazeed Al Rahji steered his Mini to the stage honours in Hohhot, the capital of Inner Mongolia in North China to claim the overall runner-up position, 25 minutes and 51 seconds adrift of Despres.
Russia's Airat Mardeev ended the event in style winning his third stage of the edition to claim the overall title in the truck category.
He was 15 minutes and 28 seconds clear of compatriot and Kamaz team-mate Dmitry Sotnikov in the general standings.
The closing and awards ceremony takes place on Sunday at the Beijing Olympic Park.