Clinton picks Tim Kaine as running mate for White House race
Comments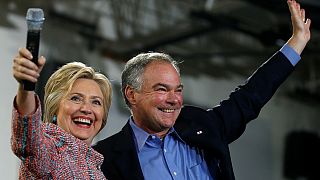 Democratic presidential hopeful Hillary Clinton has picked US Senator Tim Kaine of Virginia to help her take on Donald Trump in the race for the White House.
I'm a very strong supporter of Secretary Clinton

US Senator, Virginia
Kaine will help her present a steady alternative to the unpredictable campaign of the Republican billionaire businessman.
Clinton – who will be formally nominated as presidential candidate at the upcoming Democratic convention – announced her running mate on social media.
I'm thrilled to announce my running mate, TimKaine</a>, a man who&#39;s devoted his life to fighting for others. -H <a href="https://t.co/lTVyfztE5Z">pic.twitter.com/lTVyfztE5Z</a></p>&mdash; Hillary Clinton (HillaryClinton) 23 July 2016
"I'm a very strong supporter of Secretary Clinton and I live in a state that I think is going to be one of the three or four most critical states in the presidential election," Kaine said on Thursday, ahead of the announcement.
"So I have got a lot of really good work to do here on the campaign trail for her as a Senator and I'm just, you know, the waiting game is almost over."
Kaine, a self-described "boring" Virginian, could appeal to independents and moderates. But liberals are dismayed that he has been chosen – they object to his advocacy for an Asian free-trade pact.
Clinton has been leading Trump in many opinion polls, but there is still more than three months to go until the much talked about election.