Ted Cruz is booed for failing to endorse Donald Trump at Republican Convention
Comments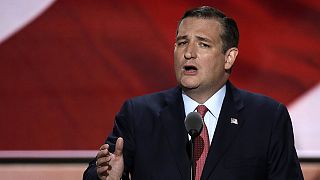 There were angry scenes at the Republican National Convention in Ohio on Wednesday as US Senator Ted Cruz failed to endorse presidential nominee Donald Trump, ahead of November's election showdown with Hillary Clinton.
Stand and speak and vote your conscience

Texas Senator
Texas Senator Cruz was given an enthusiastic welcome as he took to the stage on Wednesday, and told the crowd:
"I want to congratulate Donald Trump on winning the nomination last night."
Many then expected him to go on to endorse his former party rival Trump – putting aside their bitter primary race.
Instead, they got this!
"If you love our country and love our children as much as I know you do, stand and speak and vote your conscience," Cruz said.
"Vote for candidates up and down the ticket who you trust to defend our freedom and to be faithful to the constitution."
.@tedcruz: "Don't stay home in November...vote your conscience." https://t.co/3FNf51ERcd#GOPConventonhttps://t.co/IUALIYavTr

— ABC News Politics (@ABCPolitics) 21 juillet 2016
Cruz's rallying call to conscience, however, went down like a lead balloon.
'We want Trump' the crowd chanted. "Endorse Trump!"
The boos and jeers from Trump supporters shattered the facade of party unity that has been carefully built up in Cleveland this week.
And then Trump, 70, himself appeared, making his entrance to the convention hall near the end of Cruz's speech, applauding Cruz's remarks but, by his appearance, drawing attention away from his former rival.
Meanwhile, as the speech ended, Cruz's wife Heidi was jeered and escorted out of the hall for her own safety.
In a tweet after the convention adjourned for the night, Trump wrote that Cruz broke a promise they both had made to endorse the party's White House choice.
"Wow, Ted Cruz got booed off the stage, didn't honor the pledge! I saw his speech two hours early but let him speak anyway. No big deal!" Trump wrote.
Wow, Ted Cruz got booed off the stage, didn't honor the pledge! I saw his speech two hours early but let him speak anyway. No big deal!

— Donald J. Trump (@realDonaldTrump) 21 juillet 2016
During the campaign for the party's nomination, Trump insulted Cruz's wife's looks and suggested the Texan's father was with John F. Kennedy's assassin just before the president was shot in Dallas in 1963.
Cruz, 45, called Trump a "serial philanderer" and a "narcissist" during the campaign.
A Cruz adviser who asked to remain anonymous said Cruz anticipated a backlash from the crowd if he did not endorse Trump.
Trump's rival in November, Democrat Hillary Clinton, took to Twitter to endorse Cruz's appeal to conscience.
Vote your conscience. https://t.co/xahMq2sU1q

— Hillary Clinton (@HillaryClinton) 21 juillet 2016
Calming the crowd earlier in Cleveland, ex-House Speaker Newt Gingrich took to the stage to put his own interpretation on Cruz's comments.
"I think you misunderstood one paragraph that Ted Cruz, who is a superb orator, said," Gingrich told the party faithful.
"I just want to point it out to you. Ted Cruz said you can vote your conscience for anyone who will uphold the Constitution. In this election, there is only one candidate who will uphold the Constitution."
At least the drama turned attention away from the Melania Trump plagiarism row.
Indiana Governor Mike Pence accepted his vice-presidential running mate role in a speech to the Convention on Wednesday.
.@realDonaldTrump walks on stage to thank @mike_pence after #RNCinCLE speech https://t.co/t2LvBQMUVphttps://t.co/mhKwwfTtEJ

— CBS News (@CBSNews) 21 juillet 2016
It's Donald Trump's turn himself, on Thursday, to bring proceedings to a close, with November's presidential showdown against Hillary Clinton in his sights.