Republican Convention Day 2: Damage control
Comments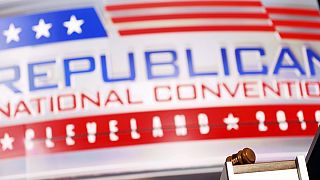 Day two of the Republican National Convention has been largely overshadowed by Melania Trump's speech, and how much it borrowed from Michelle Obama's own first lady pitch years earlier.
The row has distracted from Trump's nomination, and the party was in damage control mode.
One Republican voter tried to play down the suspected plagiarism, saying,"OK, let's look at it this way: maybe she never heard the speech of the other one and things came to her mind and she put them down, which, with her ethnic background, I think she did a very good job with it – explaining what's going to be with her husband."
Another Republican voter said:
"My gut reaction is that they're talking about that because they don't want to talk about all of the power points the Republicans hit, period. How bad Clinton's been and how bad Obama's been. And I don't think that's a big deal. It was first lady-esque. Big deal."
It comes after a failed attempt to force a vote against Trump's candidacy and protests which have dogged his campaign for months and show no signs of dying down. Euronews correspondent Stefan Grobe spoke to demonstrators at the opening of the convention.
One protester said bluntly, "He is making a fascist movement in America. He will lose but his movement is going to be around."
Grobe met a woman handing out an interesting piece of minty advice.
"An Islamophobin gum. It's a joke about helping islamophobia and to eliminate it," she told Grobe.
Trump will be hoping the second day goes a lot more smoothly than the first, especially as polls show Democrat presumptive nominee Hillary Clinton with a five point lead.