Republican division laid bare as heavyweights 'boycott' convention
Comments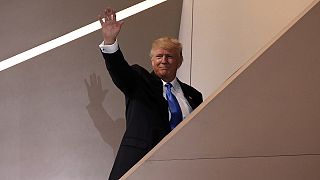 The Republican Party's four day convention got off to a chaotic start after opponents of Donald Trump tried and failed to force a vote on his candidacy.
Anti -Trump forces wanted to change the party's nominating rules to allow delegates to support alternative Republican candidates over Trump but they were shouted down.
"We delegates are being shut up, our voices are not being heard because it's a rigged convention. It's a rigged convention. They didn't want us to have any say so in the rules whatsoever," accused Marc Perez who is a Washington State Delegate:
While Georgia Delegate Jeanne Seaver, who is firmly in the pro -Trump camp, was more sanguine about the affair:
"Mr. Trump and his Trump supporters prevailed, the people of America prevailed. 14 million people voted for Mr. Trump. They deserve to have their voices heard and we're here to make sure they're heard."
If the turmoil threatened efforts by the Trump campaign to show the party had united behind the billionaire, a boycott by some of the Republican heavyweights hasn't helped either.
Trump Campaign Chairman Paul Manafort put a brave face on their absence:
"We hope that when the Bush family decides to participate again in the political process that they will join us and we would welcome them handily. We have reached out to them. Now with Governor Kasich the same thing: We think it is a difficult situation when the home state governor doesn't participate in the convention process."
But Manafort also added a sideways swipe at the Bush family:
"The Bush family – while we would love to have had them – are part of the past. We are dealing with the future. They do not reflect the broad strokes of the Republican party," said Manafort.
Correspondent Stefan Grobe, who is in Cleveland said:
"A nasty primary season has left the Party of Lincoln more divided than ever. Now, Cleveland is supposed to mark the beginning of a healing process. But with the insurgent candidate Trump at the helm, many Republicans fear that the rifts will only get bigger."
The theme of Monday's opening session – "Making America Safe Again" – was an attempt to blend concern over international terrorism, domestic police shootings and criticism of the foreign policy record of Barack Obama and Hillary Clinton.
#MakeAmericaSafeAgain!#GOPConvention#RNCinCLEhttps://t.co/QniZIsGrG8pic.twitter.com/Kvq6r6WkQ1

— Donald J. Trump (@realDonaldTrump) July 18, 2016
Also appearing – Melania Trump, wife of Donald – making the now traditional spouse's speech of support.
The presumptive GOP nominee, realDonaldTrump</a>, will introduce <a href="https://twitter.com/MELANIATRUMP">MELANIATRUMP at the #RNCinCLEhttps://t.co/tOo43c7ZVxpic.twitter.com/GyFD44U4Pu

—

GOP

Convention (@GOPconvention) July 19, 2016
The 2016 Democratic National Convention will be held July 25–28, at the Wells Fargo Center in Philadelphia, with some events at the Pennsylvania Convention Center, beginning exactly one week after the 2016 Republican National Convention.
The presidential election takes place on November 8 2016.