Republicans dare to hope with Trump
Comments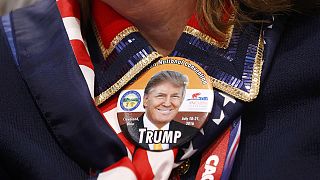 With Donald Trump just hours away from formally accepting the challenge of being the Republican Party's hope for the White House, convention delegates in Cleveland are daring to think he could go all the way.
Euronews asked few of them what they thought:
"We are gotta get back to 'tell-it-like-it-is', common-sense issues. You know, we got bureaucrats that are running this country and are running it in the ground,"
"I am 100% confident, because I think people are fed up with Hillary Clinton and establishment politics. Here are the silent majorities that have come out before. I think he is going to take our country back."
"Seniors, people of higher income, lower income, a lot of them are not saying it, but they are voting for Donald Trump."
Despite lingering doubts among party elders, opinion polls claim Trump is narrowing the gap between himself and the Democrats. But even though Trump is still facing a big challenge Euronews correspondent Stefan Grobe thinks there is one major factor which will bring out Republican support:
"Donald Trump is facing enormous obstacles. He is behind in the polls, he lacks money, infrastructure and a ground game, and he presides over a fractured party. But if there is one thing that energises Republicans more than anything, it is the overriding desire to beat Hillary Clinton," – Stefan Grobe for euronews.
The elections of 2016 are critical, and I have confidence that the GOP</a> Senators can keep the majority: <a href="https://t.co/3DEqUepD2A">https://t.co/3DEqUepD2A</a></p>&mdash; Roger Wicker (RogerWicker) July 20, 2016