Pakistan 'honour killing' suspect in court over 'social media' murder
Comments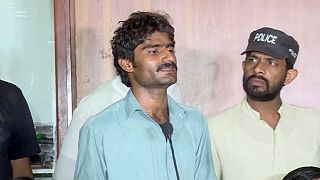 A man accused of murdering his sister, a well-known Pakistani model, because he was outraged at her social media activity has appeared in court.
Muhammad Waseem is said to have drugged and strangled Qandeel Baloch last Friday.
More than 500 people, almost all women, die in so-called "honour killings" in Pakistan each year – usually at the hands of relatives acting on perceived shame brought on the family.
Waseem told a news conference at the weekend that he was incensed at her social media profile.
The murder has shocked the country. But so too did Baloch's posts and photos in the deeply conservative nation.
Many viewed her as a disgrace to the cultural values of Islam and Pakistan.
But others hailed her as a "feminist icon" and she was unapologetic, saying she wanted to change Pakistanis' "typical orthodox mindset".
Amid protests against her murder, the ruling party is said to want to speed up plans to outlaw honour killings.
The prime minister's daughter says the government's been negotiating with religious parties in parliament.
The law would remove a loophole that allows other family members to pardon a killer.