FYR Macedonia charges suspected migrant trafficking gang
Comments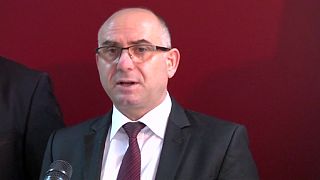 Police in the Former Yugoslav Republic of Macedonia have arrested 19 suspected members of a gang and charged them with trafficking hundreds of migrants and other crimes.
The group is also said to have carried out robberies and smuggled weapons and and drugs.
The authorities said three more suspected gang members remained at large.
The Macedonian interior minister said the group had organised the smuggling of well over 500 people.
"The group started operating in early 2015 on a domestic and international level, carrying out criminal activities including the smuggling of drugs and migrants. Some police officers from (the town of) Veles took part in these criminal activities," Mitko Cavkov said.
Balkan countries closed their borders to migrants and refugees from Asia and the Middle East in February this year but many still try to head north and reach Western Europe – often seeking the help of organised trafficking gangs to do so.