Kenya: several officers killed in hostage siege at police station
Comments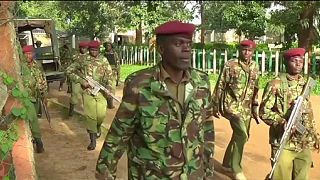 In western Kenya, several police officers have been killed, after a gunman held up a police station early on Thursday morning.
The attacker opened fire and held hostage officers and prisoners at the station in Kapenguria.
He was later killed by special forces, who were flown in from Nairobi, to deal with the siege.
Kenyan police chief Joseph Boinnet said in a statement that the man had "links to terrorism" and that he was an inmate at the police station, who had managed to grab a guard's gun.
Official press Statement on the Kapenguria police station and #LamuAttack#KapenguriaAttackpic.twitter.com/HgoZdaNqsy

— Atanas (@atanasi_) July 14, 2016
Initial reports suggested that the gunman was a suspected recruiter for the Somali militant group Al Shabaab, who was being held at the police station.
Later reports indicated that the attacker was himself a police officer.
A police source, who did not provide his name, told Reuters that at least four officers had been killed.
Some Kenyan media outlets have been reporting that least six officers died.