UK politics: Corbyn to contest Labour leadership
Comments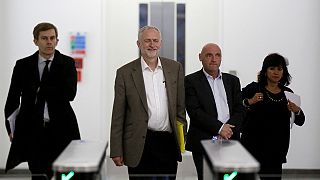 Britain's embattled opposition leader Jeremy Corbyn will automatically be included on the ballot of Labour's upcoming leadership contest, its National Executive Committee ruled on Tuesday.
The decision means Corbyn does not need the minimum support of 51 of his MPs and MEPs, something his opponents had said was required.
The secret NEC vote went 18-14 in Corbyn's favour.
Speaking to supporters outside Labour's headquarters in Westminster, the incumbant Labour leader was jubilant.
"We will be campaigning on all the things that matter. The inequality and poverty that exists in this country. The need to end the privatisation of our National Health Service. The need to give real hope and opportunity to young people all across this country. That is what Labour exists to do," Corbyn said.
The NEC's decision will come as a major blow for the majority of Labour MPs. They have been desperate to oust Corbyn since Britain's decision to leave the EU, voting 172 to 40 in a recent no confidence motion against him.
The decision also means former shadow minister Angela Eagle, who triggered the leadership race, now faces a major battle to overturn the Labour leader's overwhelming support among the party's membership.
She said she welcomed the contest and is determined to win.