UK: Angela Eagle launches Labour leadership bid to topple Jeremy Corbyn
Comments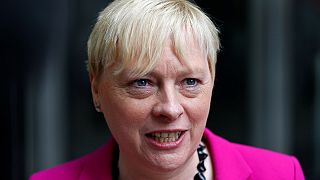 Labour's Angela Eagle has said she will challenge Jeremy Corbyn for the leadership of Britain's main opposition party.
The widely-anticipated challenge to Britain's main opposition leader follows a collapse in support for Corbyn among Labour politicians in parliament.
However he is refusing to resign and insists he can win a leadership battle which will be decided by a vote of the party membership. Thousands of new members have joined, with many believed to back him.
His rival Angela Eagle, a former shadow business secretary, accuses Corbyn of playing to his left-wing gallery rather than seeking wider support.
"Jeremy Corbyn is unable to provide the leadership that this huge task needs," she told a news conference. "I am not here for a Labour Party that just takes part, I'm here to win."
Jeremy Corbyn has rejected criticism that his campaigning in favour of the UK's EU membership was at best lukewarm.
The threat of a split in Britain's main opposition party further complicates the political scene after the referendum vote for Brexit.