From London, with love: tens of thousands rally against Brexit vote
Comments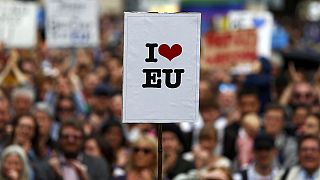 Tens of thousands of Britons marched across the capital on Saturday (July 2), in protest against their nation's vote to leave the European Union.
Many were draped in EU flags, bearing slogans such as "I'm with EU" or "Fromage, not Farage."
London widely opposed a Brexit in last week's referendum and the vote showed the United Kingdom was all but united on the topic. Most of England and Wales voted to leave the EU, while in Scotland and Northern Ireland, most voters wanted to stay.
"No Brex Please, We're British", "I'll Always Love EU", "Europe Innit", "All EU Need is Love", "Fromage not Farage" https://t.co/61K13irZTz

— Nick Malkoutzis (@NickMalkoutzis) July 2, 2016
[DAILY EXPRESS]: Brexit protest: Thousands descend on London in pro-EU rally: THOUSANDS of pro-EU voters have… https://t.co/3p8NzZPFj7

— Daily Express UK (@dailyexpressuk) July 2, 2016
"Shame on you"
The outcome of the vote has plunged Britain into political chaos and caused major turbulence on financial markets. The pound has dipped, the Bank of England said the economic outlook was deteriorating and Britain's credit rating has been downgraded.
Saturday's protesters were mainly young adults worried about their future, who said the "Leave" campaign was based on lies.
Cries of "shame on you" erupted as the rally halted outside the office of Prime Minister David Cameron, who announced the referendum in 2013.
Crowds outside No.10 shouting "David Cameron, Shame on you!" and "Eton mess!" pic.twitter.com/NhvqsTjN34

— Marcus Chown (@marcuschown) July 2, 2016
Cameron, who backed a vote to remain in the EU, said after the result he would step down by October – triggering a ruthless battle within the ruling Tory Party to succeed him.
More than 4 million people have signed a petition calling for a second referendum, saying the margin was too tight, with a 51.9 percent vote thrusting the country into the unknown.
Thousands in March for Europe today https://t.co/Dgkw53SBxa

— Kate Williams (@KateWilliamsme) July 2, 2016