Colosseum makeover gets the thumbs up from Italian PM Renzi
Comments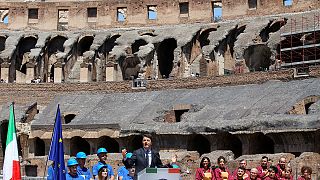 Italy has portrayed the latest phase of the restoration of Rome's Colosseum as the standard bearer for the protection of the country's vast cultural heritage.
Rome's Colosseum emerges more imposing than ever after its most extensive restoration. https://t.co/eyPUdbptJn

— The Associated Press (@AP) July 1, 2016
Italy's monuments have been neglected for decades amid shrinking government funding and alleged mismanagement, which has placed some of its 51 UNESCO World Heritage sites under threat.
The Italian Prime Minister Matteo Renzi praised the work:"The Colosseum is not only a great restoration work, it is what Italy should give to Europe. Europe can return to being itself, but in order to do this, what we see behind us is not just our extraordinary heritage it is a sign of our identity just like every small town in every small country."
Diego Della Valle Holds Event to Mark Colosseum Restoration https://t.co/OCHvPkjJERpic.twitter.com/ZxZD92gr0M

— Isobella Cross (@ImWomensFashion) July 1, 2016
Almost 2,000 years after it was built to host gladiator fights to entertain the patricians and plebeians Diego Della Valle, chief executive of luxury shoemaker Tod's, pledged €25m to restore the edifice five years ago.
Now after years of painstaking work phase one of the project is complete.