'Three Amigos' summit presents a united front
Comments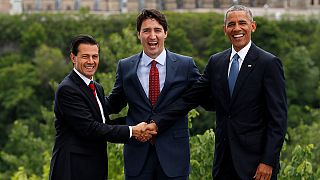 The leaders of Mexico Canada and the United States have mounted a fierce defence of free trade, closer economic ties and agreed on ambitious Clean energy goals.
At what's been called "The Three Amigos " summit in Ottawa, Mexican President Enrique Pena Nieto, Canadian Prime Minister Justin Trudeau ans US President Barack Obama ,pledged to have their countries produce 50% of their power by 2025 from clean energy.
In Ottawa's Byward Market, cookies made famous by Obama in 2009 a staple #ottnewshttps://t.co/SQ3LqTN8uXpic.twitter.com/cX3Sc6z3ZV

—

CTV

Ottawa (@ctvottawa) June 29, 2016
"This partnership will see our countries stand side by side as we work toward the common goal of a North America that is competitive, that encourages clean growth, and that protects our shared environment now and for generations to come," pronounced summit host, Canadian Prime Minister Justin Trudeau.
Mexico joins the U.S. and Canada in pledging to run North America on 50% clean power by 2025. https://t.co/reWUQSNkIS

—

MCAF

California (@CleanAirMoms_CA) June 30, 2016
But even here the Brexit crisis in Europe was being felt.
Later during an address in the Canadian parliament Obama acknowledged that some people had genuine concerns about globalisation.
"The short term fallout of Brexit can be sensibly managed, but the long term trends of inequality and dislocation and the resulting social division, those can't be ignored. How we respond to the forces of globalisation and technological change will determine the durability of an international order that ensures security and prosperity for future generations."
The summit, Trudeau's first and Obama's last could be the final harmonious one between the three countries if Republican presidential candidate Donald Trump is elected . He's claims free trade has been disastrous costing thousands of US jobs and depressing wages.