Osborne coy on leadership as contest set to begin
Comments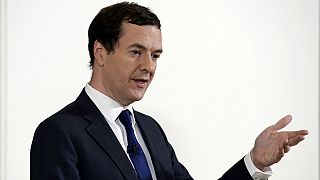 The UK's finance minister, Chancellor George Osborne, refused to reveal whether he will put himself forward as the next Prime Minister in his first speech since the EU referendum.
Candidates have until Thursday to put their names forward to replace David Cameron as leader of the Conservative Party.
Osborne has long been tipped for the role but his support for remaining inside the EU has been seen as damaging his chances.
No other candidates have come forward but "Leave" campaign leader Boris Johnson and home secretary Theresa May are among the favourites.
In his speech today, Osborne sought instead to calm markets shocked by the unexpected vote to quit membership of the European Union.
He insisted Britain's economy is strong and ready to face the future from a position of strength.
Osborne also stressed only the UK could begin the process of leaving the bloc, by triggering Article 50 of the Lisbon Treaty.
Speaking from the Treasury, Osborne said: "It will not be plain sailing in the days ahead. But let me be clear, you should not underestimate our resolve. We were prepared for the unexpected and we are equipped for whatever happens and we are determined that, unlike eight years ago, Britain's financial system will help our country deal with any shocks, and dampen them, not contribute to those shocks or make them worse."
I want to reassure British people and the world: UK ready to confront what future holds from a position of strength https://t.co/s9bNmzPmap

— George Osborne (@George_Osborne) June 27, 2016
In addition to insisting the UK's relationship with Europe would remain unchanged for now, the British finance minister also ruled out an emergency budget.
Osborne's statement was aimed at calming global markets, which have reacted to the referendum result by dumping the pound.