Paris and Berlin agree on a strategy following Britain's shock exit vote
Comments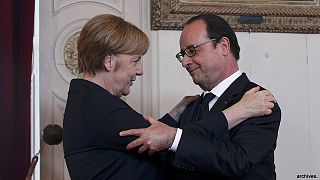 Germany France and Italy are to hold talks in Berlin today ( June 27)in the wake of Britain's vote to leave the EU.
In a phone call on Sunday Chancellor Angela Merkel and President Francois Hollande reportedly agreed on how to handle the aftermath. The apparent consensus is in contrast to the previously conflicting signals from Berlin and Paris since the vote.
Hollande, Merkel discuss Brexit, agree on strategy: French source https://t.co/CXYGzIqGOypic.twitter.com/XNjHi37c9p

— Reuters Top News (@Reuters) June 26, 2016
On Tuesday (June 28)British Prime Minister David Cameron will speak to fellow European leaders in Brussels although he's not expected to make a formal notification of intention to withdrawal from the bloc.
Cameron, who plans to step down in the coming months wants to leave his successor the task of triggering the two-year countdown to an EU exit by notifying the other states under Article 50 of the EU treaty.
It is not until Article 50 has been invoked that negotiations on the form of Britain's departure or a future trading relationship will begin.
On Wednesday (June 29) for the first time only 27 EU leaders will hold a summit with the notable absence of Cameron.