Colombia's government and main rebel army sign historic ceasefire deal in Cuba
Comments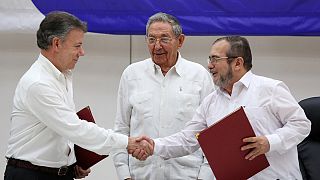 Latin American leaders and the UN Secretary General Ban Ki-moon gathered in the Cuban capital Havana have witnessed the historic signing of a ceasefire deal between Colombia's government and its main rebel group, the FARC.
The deal is expected to be cemented with a peace agreement which will mark the end of a 52 year long conflict that has killed around 220,000 people.
Less than a year ago an attempt at a unilateral ceasefire was made by the FARC and the government responded by halting airstrikes on its camps in the jungle. But it didn't last as negotiators failed to meet a self imposed deadline in March.
The FARC's leader Rodrigo Londono, also known by his nom de guerre Timochenko, signed alongside Colombian president Juan Manuel Santos.
The FARC, which is still considered a terrorist group by both the European Union and the United States, is now expected to lay down its arms and its soldiers to return to civilian life.