Historic ceasefire deal brings peace closer to Colombia
Comments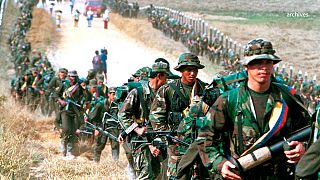 Colombia's civil war began as a 1960s peasant revolt but then exploded into a cocaine-fuelled conflict which killed at least 22,000 people and displaced millions.
The Revolutionary Armed Forces of Colombia, or the FARC, which is thought to have numbered as many as 17,000 members in its prime, came to be designated a terrorist organisation by both the European Union and the United States.
Then, nearly a year ago, the FARC called a unilateral ceasefire and the government responded by halting 
air strikes on rebel camps. 
A major sticking point for the government was the FARC's holding of hostages for years in jungle camps, in particular the kidnap of presidential candidate Ingrid Betancourt in 2002 who was later released.
The FARC had been particularly concerned about security after its soldiers lay down their arms.
They remember that thousands of former guerillas were assasinated by paramilitaries after joining a political party during an attempt at peace in the 1980s.