A quiet afternoon at the cinema ends in terror in Germany
Comments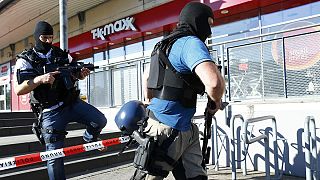 A quiet afternoon at the cinema has ended in terror in Germany.
Children and adults ran for their lives after gunshots were fired inside a multiplex in the city of Viernheim, south of Frankfurt.
Police shoot deadgunmanwhotookhostagesin Germancinemahttps://t.co/CTOMGg5GYBpic.twitter.com/MX5Qic2nfW

— Reuters Top News (@Reuters) June 23, 2016
Details are slow to come out about what happened inside the cinema.
Reports that medics treated dozens of people who had inhaled CS gas have not been confirmed.
Police have said, however, that the alleged attacker was shot dead by special forces.
"We got a strong team together, we mobilised all the police resources in the South Hesse region," said police spokesperson Bernd Hochstadter.
"Things were happening very fast and it was not easy for us to get a clear picture of what was going on. Obviously, we brought in teams of specialised officers as well," he continued.
The alarm was raised just after three pm.
Special forces surrounded the complex and brought the operation to an close.
So far, there has been no information about a possible motive.
However, police have ruled out a militant link.