US and Venezuela to hold high-level talks
Comments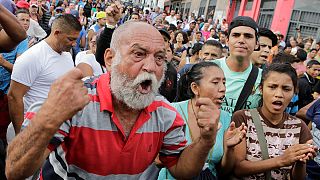 Supporters of Venezuelan President Nicolas Maduro demonstrated in Caracas on Tuesday to defend their champion and reject calls for a referendum that could force the chosen heir of the late socialist firebrand Hugo Chavez from office.
The push for a popular vote has been backed by US Secretary of State John Kerry but despite this embattled
Maduro has agreed to high-levels talks with the United States to try to ease longstanding bilateral tensions.
Once one of Latin America's most prosperous nations, Venezuela has plunged into unrest and a harsh economic slowdown. Long queues for food and medicines have led to protests and opposition calls for the recall referendum.