Venezuela: euronews investigates "erased signatures" on referendum petition
Comments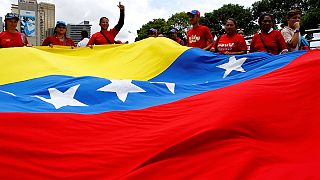 Critics of Venezuelan President Nicolas Maduro have accused the country's National Electoral Council (CNE) of seeking to stall the process of instigating a recall referendum. They claim signatures have been unreasonably invalidated and thus erased from a petition demanding the vote.
Euronews reporter Alberto de Filippis in Caracas went looking for anyone whose signature had been accepted.
"Look, I signed because I am worried about my daughter's future," said one women. "But my signature is not there. I organised gathering some of the signatures, I am an opposition activist and even my name is not there."
In the past few weeks the opposition had gathered over one million signatures in the first tranche needed to secure a referendum but the electoral council has rejected over 600,000 of them.
"They say that some signatures belong to dead people. This government and the CNE are so shameless that they nullified a lot because they said Maduro had been written with an O instead of a U. These are some of the excuses that they've invented in order to reject these signatures," said opposition member Juan Requesens.
Reporting for euronews, Alberto de Filippis summed up his day in Caracas: "A full day in the Venezuelan capital talking to dozens of people and we found no one whose signature had not been nullified. But the opposition remains defiant and says it won't throw in the towel."