Pistorius must pay for Reeva's death - father
Comments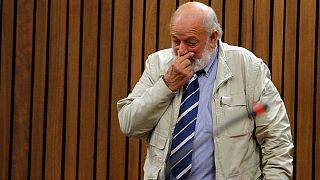 Model's father gives testimony at sentencing hearing
Pistorius facing minimum 15-year jail term
Manslaughter conviction for 2013 killing upgraded to murder

"Pistorius must pay"
Oscar Pistorius "must pay" for the 2013 murder of his girlfriend, Reeva Steenkamp.
I think of her all the time
That is what Steenkamp's father told a sentencing hearing in Pretoria when he was called to testify.
Emotional Barry Steenkamp says Pistorius must pay for Reeva's murder https://t.co/FCk5AeVfly

— The Guardian (@guardian) June 14, 2016
Called to testify by the lead state prosecutor, a tearful and trembling Barry Steenkamp said his daughter's death has devastated their family.
"I think of her all the time. People say it takes you two years, three years and you start feeling a little bit better about the whole thing but every day of my life is the same," the 73-year-old told the court.
What happened?
At his original trial, Pistorius argued he mistook Reeva Steenkamp for an intruder.
His manslaughter conviction was upgraded to murder after an appeal heard by the Supreme Court.
Reeva Steenkamp's father to break silence over Oscar Pistorius in court https://t.co/qN05RmZSyYpic.twitter.com/FYfWDlTvwM

— The Telegraph (@Telegraph) June 12, 2016
It ruled in March that Pistorius had exhausted all his legal options.
The original trial judge, Thokozile Masipa, is also presiding at the sentencing hearing in Pretoria's High Court.
Manslaughter conviction upgraded to murder
The 29-year-old paralympian faces a minimum 15-year jail term after his manslaughter conviction for the 2013 killing was upgraded.
He originally received a five-year sentence.
Father of Reeva Steenkamp testifies at Pistorius sentencing https://t.co/pSM2jCDXdIpic.twitter.com/IU6R0LypiD

— CP24 (@CP24) June 14, 2016
Has Pistorius shown any remorse?
Prosecutors say he has not.
On the first day of the hearing on Monday, prosecutor Gerrie Nel told the court Pistorius has shown no remorse for shooting and killing Steenkamp when he fired four shots through a locked toilet door in his home in Pretoria.
Nel disputed a claim by a psychologist called by Pistorius' lawyer that he was a "broken man" who should be sent to hospital and not jailed.
What they are saying
"I ended up having a stroke and so many things since then have happened. I just don't wish that to anyone in this world. He has to pay for his crime," – Barry Steenkamp told the court.
"It was an inspiration for my son to see Oscar and the others run," – Gudny Gudmundsdottir from Iceland told the court the paralympian is a sporting inspiration for her son, who has a similar disability.