Ukrainian Secret Service on Frenchman arrested at border in terror plot
Comments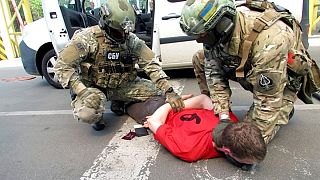 On Monday, Ukraine's secret service, the SBU, announced that Frenchman Gregory Moutaux, 25, was preparing attacks on French soil this June and July during UEFA Euro 2016.
Moutaux was arrested May 21 at the Ukraine-Poland border after six months of investigation in Ukraine by the SBU, who report that he planned to target a mosque, a synagogue and tax centers to show his opposition of globalisation, the migration policy of France and the dissemination of Islam.
euronews talks with Vasyl Hrytsak, head of the SBU,
Ukraine's Secret Service, about the man they followed and arrested at the Ukraine-Polish border with a cache of explosives and weapons.
Sergio Cantone:
"Welcome to euronews. As far as this operation is concerned do you consider it's over or do you think there is still a job to do?"
Vasyl Hrytsak:
"As far as I know this man had been working for an agricultural company. However, while in Ukraine, we have evidence – photographs and videos – of him holding weapons and it shows pretty clear the way he holds a Kalashnikov. You can see how he put his finger. The special forces servicemen know how to put their finger: not on a trigger, but on the receiver (along the barrel of the rifle)."
He expressed his readiness to commit terrorist attacks in France. He complained about a lot of things. He said that there is an organisation and he is a member of this organisation. He didn't seem like someone who just wanted to buy weapons and deliver them to France."
Sergio Cantone:
"Which organisation does he belong to, according to your investigation?"
Vasyl Hrytsak:
"Unfortunately, I cannot reveal all of the evidence that we obtained in the course of our investigation. But, it is most likely that it is a far-right organisation.″
Sergio Cantone:
"Is it a French far-right organisation or European far-right organsation, transnational far-right organisation?″
Vasyl Hrytsak:
"Unfortunately, I cannot say that this organisation operates only in France, but what we've discovered from the preliminary investigation and from the search operations shows that members of this organisation are mostly French citizens.″
Sergio Cantone:
"Which Ukrainian unit did he contact, (voluntary) battalions or a regular army unit?"
Vasyl Hrytsak:
"He contacted both volunteer battalions and representatives of the Ukrainian army. For a long time his attempts were unsuccessful, until they became known to us."
Sergio Cantone:
"The good contact for him was a battalion or regular army? Who sold him this weapon?"
Vasyl Hrytsak:
"At a certain point, according to the current Ukrainian legislation, the Security Service of Ukraine has decided to start the "operational game" with a citizen of France to clarify his real intentions of purchasing the weapons and of committing terrorist acts in Europe."
Sergio Cantone:
"How much did he pay?"
Vasyl Hrytsak:
"He made several payments. In the first conversation with a potential seller he offered to make an advance payment. This advance was 5,000 euros. Payment was made in three stages. Moreover, other people were involved with this man in the payment for the future purchase of weapons of destruction. They brought the money, the cash, into Ukraine."
The SBU is a special-purpose law-enforcement agency and Ukraine's main government security agency in the areas of combatting terrorism and counterintelligence activity.