Ukraine fans protest over France Euro 2016 visa denials
Comments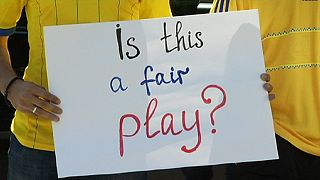 Just days before the start of Euro 2016 a group of Ukrainian football fans have protested outside the French embassy in Kyiv complaining that supporters wanting to attend are not getting visas.
They claim about 100 applications have been turned down and 1,000 have not had answers to their applications.
Among those refused, one young football-mad boy from Lviv who has become an unofficial national mascot, occasionally lining up with the national side during anthems before kick-offs.
Eight-year old Volodymyr Bobenchyk says he and his family had bought tickets via the UEFA website and had organised their trip.
"It's the European Championship, I really want to go to see it. I cried, I was upset. We bought these tickets (for the tournament) in advance, we bought plane tickets, we booked hotels, but we didn't get our visas," the boy said.
The official reply from the French authorities said the information provided in the family's application to justify the reason for and conditions of their visit was not reliable.
Volodymyr's family insist they have a trustworthy visa history and travelled in the Schengen zone for last year's Europa League final.
Journalists and NGOs are among hundreds who've signed a petition calling on the French embassy to sort out the visa problems urgently.
Without commenting on the boy's particular case, a French embassy official defended the application process.
"In May, only two percent of applicants weren't granted a visa. And we're trying to issue visas in time," said Julie Fort , the embassy's first secretary.
According to one Ukrainian newspaper, EU embassies and consulates have been becoming stricter over Ukrainian visa requests – and that the percentage of denied requests has doubled in two years from 1.7 percent in 2014 to 3.4 percent in 2016.
Volodymyr and his family were seen entering the embassy in Kyiv – grounds for hope perhaps that for them, a solution could be found.