Ukraine 'prevents' 15 'terrorist attacks' planned for France
Comments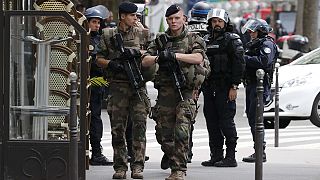 The head of Ukraine's state security service (SBU) says it has prevented 15 "terrorist attacks" planned for the eve and during the Euro 2016 football championship in France.
SBU chief Vasily Gritsak said a French citizen detained in late May on the Ukrainian-Polish border had been planning a string of attacks in France to coincide with the championship which France is hosting.
The unnamed man had made contact with illegal armed groups in Ukraine with the aim of buying weapons and explosives.
His intended targets included Jewish and Muslim places of worship and buildings involved with the soccer tournament, Gritsak said. French government administration buildings, including those dealing with tax collection, were also a target.
"The Frenchman spoke negatively about his government's actions, mass immigration, the spread of Islam and globalisation, and also talked about plans to carry out several terrorist attacks," Gritsak told journalists.
"The SBU was able to prevent a series of 15 acts of terror (planned) for the eve and during the Euro soccer championship," he said.
Security officials in Europe are on high alert after Islamist militants killed 130 people in Paris last November and suicide bombers killed 32 people at Belgium's main international airport and on the Brussels metro in March.
The United States has warned its citizens of possible further attacks in Europe, saying targets could include Euro 2016 which opens in France on Friday.
Gritsak said the SBU had sold deactivated weapons to the suspect after they found out that he was looking to purchase the arms.
Reuters